CSR Partners
Donations Received from CSR Partners
State Bank of India is an Indian multinational public sector bank and financial services statutory body headquartered in Mumbai, Maharashtra. SBI is the 43rd largest bank in the world and ranked 221st in the Fortune Global 500 list of the world's biggest corporations of 2020, being the only Indian bank on the list.

Donations:
Donated Critical Care Ambulance Siddhagiri Hospital & Research Centre, Kolhapur.
CSR grant of Rs 7 lakh was provided to Siddhagiri Hospital & Research Centre, Kolhapur. The ambulances have been put on service by the Hospital.
Solar panel system and Neuro Microscope System to hospital which is worth around of 1 crore.
csr partner:
State Bank Of India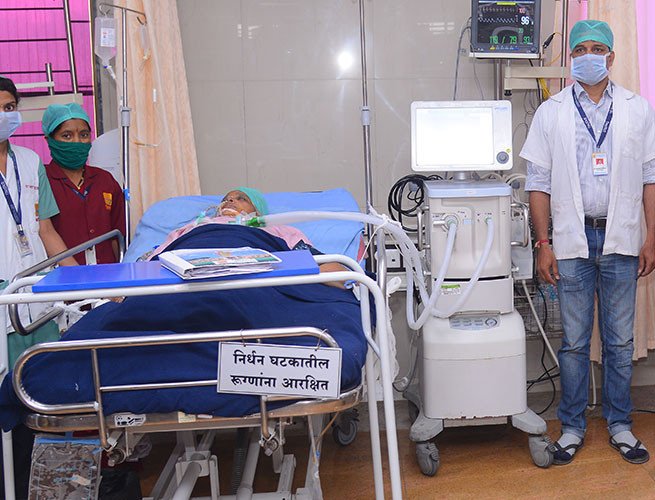 Rotary Club of Kolhapur Sunrise is one of the most active club in Rotary District 3170. Rotary Sunrise a young and smiley club with present strength of 85 Regular and 01 Honorary members and is one of the most vibrant clubs in RID 3170. Known for it's passion to excel and do good for the society, the young members with the average age of 37 are engaged in various humanitarian projects and activities.

Donations:
Donated ventilators system worth to Rs. 30 lakhs to the Siddhagiri Hospital & Research Centre - 24th November, 2019
Donated 30 lakhs worth mobile eye care unit to Siddhagiri Hospital & Research centre, Kolhapur in the month of February, 2016.
csr partner:
Rotary club of Kolhapur Sunrise
Shapoorji Pallonji And Company Private Limited is a global, diversified organisation of 18 major companies. They deliver end-to-end solutions in 6 business segments, namely Engineering & Construction, Infrastructure, Real Estate, Water, Energy and Financial Services. Developing megastructures and iconic landmarks, our dedicated workforce of over 70,000 people in over 70 countries is focused on sustainable development.

Donations:
Cardiology Set up worth of Rs 3.5 CR to Siddhagiri Hospital & research Centre, Kolhapur
csr partner:
Shapoorji & Pallonji Group, Mumbai
Menon Group, the multi-product, high end critical auto components group manufacturer of grey iron automotive components like cylinder blocks, cylinder heads, and hydraulic control assemblies for over 50 years, is based in Kolhapur.

Donations:
Donated Rs. 25 Lakhs for Kolhapur Flood Relief, 2019
csr partner:
Menon Group
The 'Lupin Human Welfare & Research Foundation' (LHWRF) is committed to take care of the less privileged section of society and has become a proactive partner for building the nation. Lupin Foundation has now succeeded in revitalizing, revamping and recreating life in more than 3323 villages in Rajasthan, Madhya Pradesh, Maharashtra ,Uttrakhand, Andhra Pradesh, Jammu Kashmir, Gujrat and Goa states of India, which accentuate the foundation, emerging as one of the largest NGOs in the country.
Lupin HWRF, in collaboration with Siddhagiri Math, conducted the first godhadi festival at Siddhagiri Math, Kolhapur during 26-Nov-2015 to 02-Dec-2015.Godhadi (Handmade blankets) is an art which is becoming extinct. Lupin helped rural women to train the rural women the art of godhadi and the Godhadi prepared by the women was put on sale in exhibition. Also Lupin donated Rs. 5 lac for building houses for homeless in Kerala Flood.

Donations:
Donated Rs. 5 Lakhs for Kerala Flood victims rehabilitation, 2018
csr partner:
Lupin Foundation (LHWRF)
The Allstate Corporation is an American insurance company, headquartered in Northfield Township, Illinois, near Northbrook since 1967. Founded in 1931 as part of Sears, Roebuck and Co., it was spun off in 1993. The company also has personal lines insurance operations in Canada. The company collaborated its CSR wing with Siddhagiri Gurukul Foundation with the project by name – Social Entrepreneurship & Economic Development (SEED). Rural women were given a training of preparing food products like papad, tamarind candy, Indian spices, ginger jaggery products, etc. This sustainable work has brought a big breakthrough and earning option for them. In 2021-2022, SGF is launching a skill development program in collaboration with ALL STATE with an objective of providing key industry software skills FREE of cost to those underprivileged students who have the potential to apply and excel. We will also place them within the industry at absolutely zero commission.

Donations:
Donated Rs. 25 Lakhs for Skill Development program for rural women, 2020-2021 and 2021-2022
csr partner:
All State
ifm electronic gmbh – Automation made in Germany. Quality, innovation, exceptional service and more than 40 years close to the user. During the Kolhapur Flood situations, ifm electronic monetary donations helped SGF to rescue, recover and rehabilitate the victims of flood.

Donations:
Donated Rs. 19.8 Lakhs for flood relief at Kolhapur, 2019
csr partner:
ifm electronic