Throughout the last decade, Siddhagiri Foundation has been careful in reaching out to the students belonging to the lower social-income groups and orphans. Through its initiative called Anandashram, over 100 students from Meghalaya and more than 50 orphans are cherishing their school-life with courage and tenacity.
Siddhagiri Ananda-shram…Not anatha-shram
(home of happiness and not an orphanage)
Every child is a seed and has a full right to grow and turn into a tree up to its maximum potential amidst its family. Every child wants a safe, loving family to grow up in. 80% of children have living parents but due to poverty and incapability of parents to bring them up, these children are living in a hell like situation. Parents can't feed, educate and provide medical facilities to them.
Siddhagiri Anandashram is an attempt to provide these children the infrastructure to grow up and it helps them to become a responsible citizen of India with character. With the help of crowd funding and donations by society, Siddhagiri is managing facilities for these increasing number of deprived children. This is a humongous task and it needs many helping hands. We are seeking our partnerships with national governments, civil society organizations, international agencies, corporate donors and committed individuals, we are helping to build a global movement that will eliminate orphanages in our lifetime.
250
Children in Anandashram
3
Anandashram Centers in Maharashtra
150,000
Expenditure/Student/Year
2010
Year of Establishment
AS IS of Siddhagiri Anandashram
Shri Kadsiddheshwar Swamiji not only believes in Indian pledge, but he took a strong move to implement the words and notions in it, which mentions India is my country and all Indians are my brothers and sisters. Shri Swamiji travelled to Meghalaya and brought around 150 suffering children from Meghalaya to Kolhapur, Maharashtra. It cost Rs. 4000/- per child just to travel from remote villages in Meghalaya to Kolhapur. These children were in a situation where they did not even get a food once a day in Meghalaya. There had no facilities of education and basic hygiene at all. There are around 250 childrens in Anandashrama have been benefitted till date. 25 of which are from Tripura residing at Siddhagiri Math, Kolhapur. 50 from Maharashtra in Parali Sajjangad area and 20 in Khopi, Konkan region. The basic facilities by the ashram include facilities like food, shelter, clothing and education.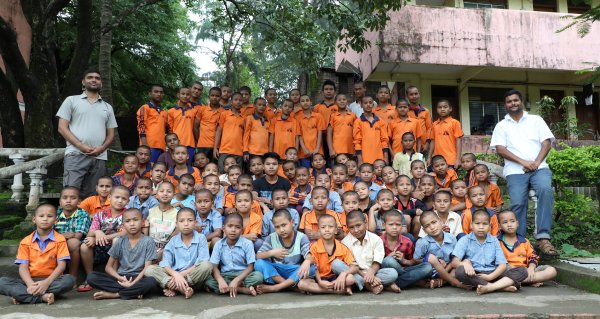 A Day at Anandashram
The day begins with shanti prayers and Stotras (Hymns) at a dawn. Chanting followed by Yog practice provides the energy to start off the day with full of enthusiasm and excitement. After the nutritious breakfast, English and Mathematics subjects are taught by the experienced tutors.
Later they are sent to Shri Kadsiddheshwar Highschool for further studies. In the evening, children finish their homework and play Indian games.
Weekly twice, they are trained by the traditional music teachers. The day ends with prayers and children go to sleep. The domestic Indian skills are taught to them like pottery, carpentry, electrician courses, etc. so that they can become entrepreneurs.
They are taught value-based education.
Shramdaan – children perform seva (voluntary work through physical effort for a certain cause, be it social or otherwise) during their leisure time. This gives them feeling of social responsibilities.
Mr. Anil Sir looks after every child here at Kolhapur. Shri Abhayanand Swamiji is In-charge at Parali, Sajjangad and Dr. Vivek More looks after kids at Khopi. These faculties train the elder ones to train the young ones.
Anandashram has become own home for many helpless ones.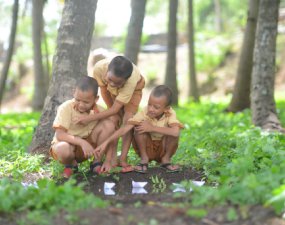 OTHER ACTIVITIES
Adoption of high school children
Adoption of children for their education: Siddhagiri Math has been adopting deserving students from the vicinity villages every year, who have no source to mitigate the educational expenses. Math has been felicitating the scholar students from 10th, 12th and Graduate level among the devotee families and villages around the Math. Among these students, the bright kids are rewarded during Mahashivratri festivals which is an inspiration to other young folks to flourish in their career.